Musica in Festa 2023 XXIX edizione
Vi presentiamo i nostri ospiti di Giugno 2023, della XXIX edizione di Musica in Festa.
Ritornano a trovarci gli
"Amici Americani degli Ottoni"
.
Seguiranno i programmi dei concerti.
Gli Amici Americani degli Ottoni
Il gruppo Gli Amici Americani degli Ottoni è stato fondato nell'anno 2014 di un gruppo degli amici del Laboratorio della Musica da Camera degli Ottoni (Brass Chamber Music Workshop), un programma estiva per musicisti dilettanti a Humboldt State University in California, USA, per esibirsi con la Banda Staffolo al suo festival musicale estivo. I suoi membri vengono da stati diversi sulla costa occidentale del USA, e si conoscono principalmente dai loro incontri estivi, ma erano diventati amici qua per molti anni. Insieme hanno fatto concerti, ed anche hanno commissionato nuove opere musicali per i gruppi musicali da camera degli ottoni, oltre a sostenere giovani musicisti europei a partecipare come ospiti al Brass Chamber Music Workshop. Sono molti entusiasti di ritornare a Staffolo quest'anno, dopo la bellissima esperienza del Giugno del 2014.
I Componenti :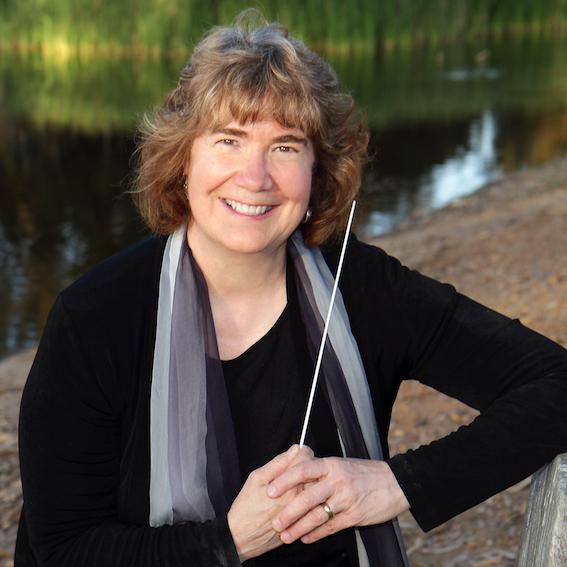 Joan Haaland Paddock - Conductor
is Professor of Music and Chamber Music Coordinator at Linfield University in McMinnville, Oregon USA. Originally from North Dakota, she began trumpet studies at age 14 and enhanced studies by attending International Music Camp at the Peace Garden bordering ND and Canada. While abroad with the American Field Service Program (AFS), she studied with Shigeki Ide in Miyazaki, Japan. Joan is the first woman to earn a trumpet performance doctorate from Indiana University, where she studied trumpet with Charles Gorham, conducting with Ray Cramer, and was awarded the school's acclaimed Performer's Certificate.
Fulbright Scholar to Norway, Joan studied with trumpet soloist Harry Kvebæk at the Norwegian State Academy of Music. She was awarded an Emmy from the National Academy of Television Arts and Sciences for original music written and performed by her for the documentary, Journey from Death. As Bach Trumpet Clinician for Selmer Music Corporation, Joan is soloist and clinician with school and community bands throughout the US. She serves as adjudicator, clinician, and guest-conductor for band and brass groups worldwide, most recently in the Americas, Norway, and now, Italy with the Banda Staffolo.
Joan performs with Britt Festival Orchestra and is 'on call' with Oregon Symphony and Portland Opera; she also plays with Oregon Symphonic Band and Salem Symphonic Winds. Joan coaches brass ensembles at the brass chamber music workshop at Humboldt State University in California.
Like many Italians in Marché Province who live surrounded by vineyards, Joan lives in "wine country" of the Yamhill and Willamette Valleys in Oregon. Her husband Paul, also a musician, plays euphonium and trombone and is an inventor and engineer of high-end audio speakers. Joan and Paul have two adult children and are blessed with two granddaughters.
---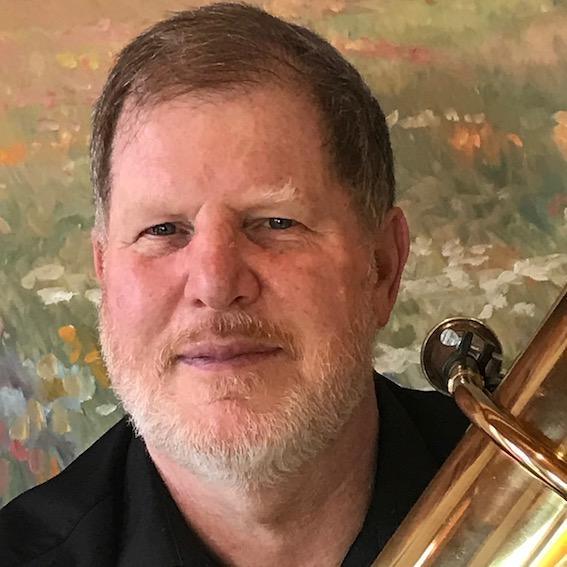 Mark Lindenbaum – tubist
Born in Chicago, Mark Lindenbaum was raised in a family with both scientific and musical backgrounds. He became a physician, but has maintained a passionate interest in music throughout his life. Over the years he studied the tuba with Ross Tolbert of the Minnesota Orchestra, Randall Holmes of the U.S. Air Force Bands and Chris Olka of the Seattle Symphony. He particularly supports the cause of community-based music, performing in the orchestra of his adopted home town, Bellingham, in the American state of Washington, as well as in a brass quintet and traditional jazz band.
A lifelong interest and a joy for him has been brass chamber music, and he is a long-time participant and advisory board member of the Humboldt University (California) Brass Chamber Music Workshop, a music workshop for community level musicians.
He has supported the composition of new pieces for brass chamber music, one of which, by composer Ray Burkhart, is featured on this program. He began coming to the Staffolo area almost twenty years ago to visit friends who had relocated there, fell in love with the community, and eventually adopted Staffolo as a second home.
He is excited to return for the first time since the start of the COVID pandemic. One of the greatest pleasures of his life has been his ongoing collaboration with the Banda Musicale della Città di Staffolo. The brass chamber group Amici Americani degli Ottoni was founded in 2013 to participate in and celebrate this collaboration. He honors the Banda Staffolo for its efforts to bring people together from diverse communities, a true demonstration of the power of music.
---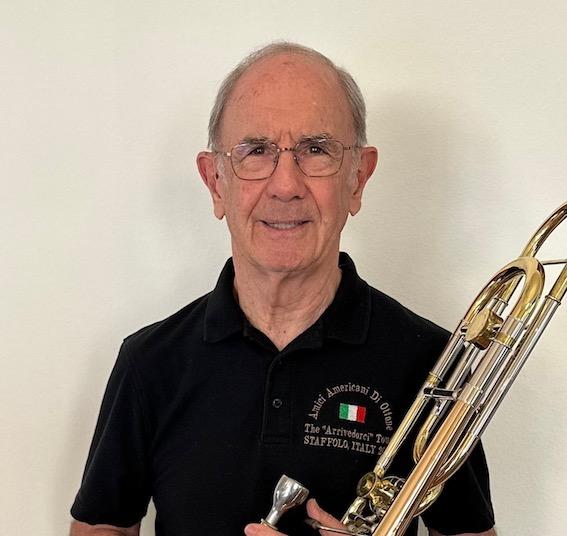 John Monroe – Trombone

John Monroe has been playing trombone and euphonium for 65 years. John is currently principal trombone for Brazzissimo, a popular San Francisco Bay Area brass choir, and the San Francisco Brass Band. John is an active chamber musician, playing trombone with the Altos Brass Quintet, Balcony Brass Quintet, and the Stanford Trombone Quartet. He has also played euphonium in the Ohlone Wind Orchestra, solo euphonium in the Mission Peak Brass Band, and solo euphonium in the Mad River Tuba Quartet.
John has been a regular soloist on trombone and euphonium with the Ohlone Wind Ensemble, Bay Bones, the Ohlone Community Band, and the Mission Peak Brass Band. John has also performed in master classes with Joseph Alessi, Zachariah Spellman, and the Sotto Voce Tuba Quartet.
In the summer of 2009 John performed Henry Brant's "Orbits" in the Solomon R. Guggenheim Museum with 81 of his closest trombone-playing friends. The New Yorker Magazine recognized this performance as one of New York City's top ten musical events of 2009. He's also played his trombone on the Great Wall of China.
A retired Hewlett-Packard manufacturing and quality executive, John volunteers as a music aide in the Palo Alto schools, manages the family almond orchard, and serves on the Board of Directors of Blue Diamond Growers. He encourages all of you to practice, and to eat your almonds every day!


---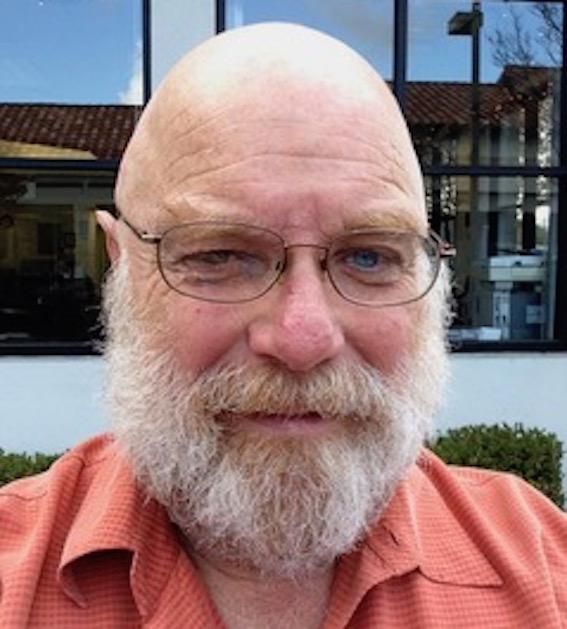 Tom Hyde, trumpet

Tom Hyde has been playing the trumpet since 1954 and is dedicated to the joyful practice of music. He has been a member of the Sonoma County Philharmonic Orchestra since 1999 and is currently their Principal Trumpet. Mr. Hyde has studied trumpet with John Pearson of the San Francisco Opera and Kale Cummings of the Santa Rosa Symphony. He plays in numerous brass chamber music groups in the San Francisco Bay Area and is a founding member of the BrassFire! Brass Quintet. He also plays with the North Coast Brass and the Balcony Brass. He has performed with the San Jose Symphony and the Santa Rosa Symphony and been a trumpet soloist with the Baroque Sinfonia of Santa Rosa and the Sonoma County Philharmonic Orchestra. He has attended the Humboldt State University Brass Chamber Music Workshop every year since 1988 and is on their advisory board.
Tom graduated from the University of California – San Diego with a majo in Physics. He has been a scientist, a community organizer, a solar heating pioneer, a carpenter, a plumber, and is now retired from 28 years of teaching high school Mathematica and Astronomy.
He uses his new abundance of time to indulge his passion for music. He is now a part-time teacher of trumpet at Music to My Ears in Cotati, California and a frequent performer in music theater and choral productions throughout the Bay Area. He lives in Santa Rosa, California and spends his free time cycling the bicycle paths of Sonoma County as well as spoiling his 4 wonderful grandchildren.


---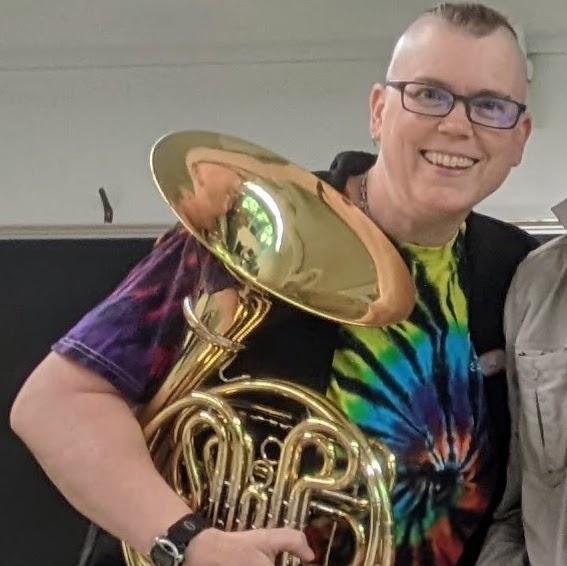 Tyler Morse - French Horn
Tyler Morse has played horn for over 40 years. She was originally going to play cello, but shocked her parents by bringing home a battered French horn after the local music teachers gave a demonstration at her elementary school. She considered attending conservatory at Eastman School of Music, but decided to pursue her passion for computer science at Stanford University instead. She kept up her playing by taking lessons, joining the orchestra, and performing solo and chamber music concerts while acquiring her B.S. in Computer Science. She is currently a member of the San Francisco Philharmonic, Brewers Brass, and Balcony Brass. Tyler has been fortunate to play in small chamber groups since her third year of playing, those early groups organized by her first horn teacher. There were some very interesting instrument combinations - flute, bassoon, horn being one that stands out - but no matter what the instrumentation, Tyler learned a huge amount musically that she has utilized throughout her horn career. She has kept up her love of chamber music by attending the Brass Chamber Music Workshop at Humboldt University for the last 25 years.
When Tyler isn't playing her horn, she works as a site reliability engineer at a little company called Google. She also likes to make ice cream, which makes her a superhero in the eyes of her kids, Asher, age 18, and Xylia, age 16.
OSPITE D'ONORE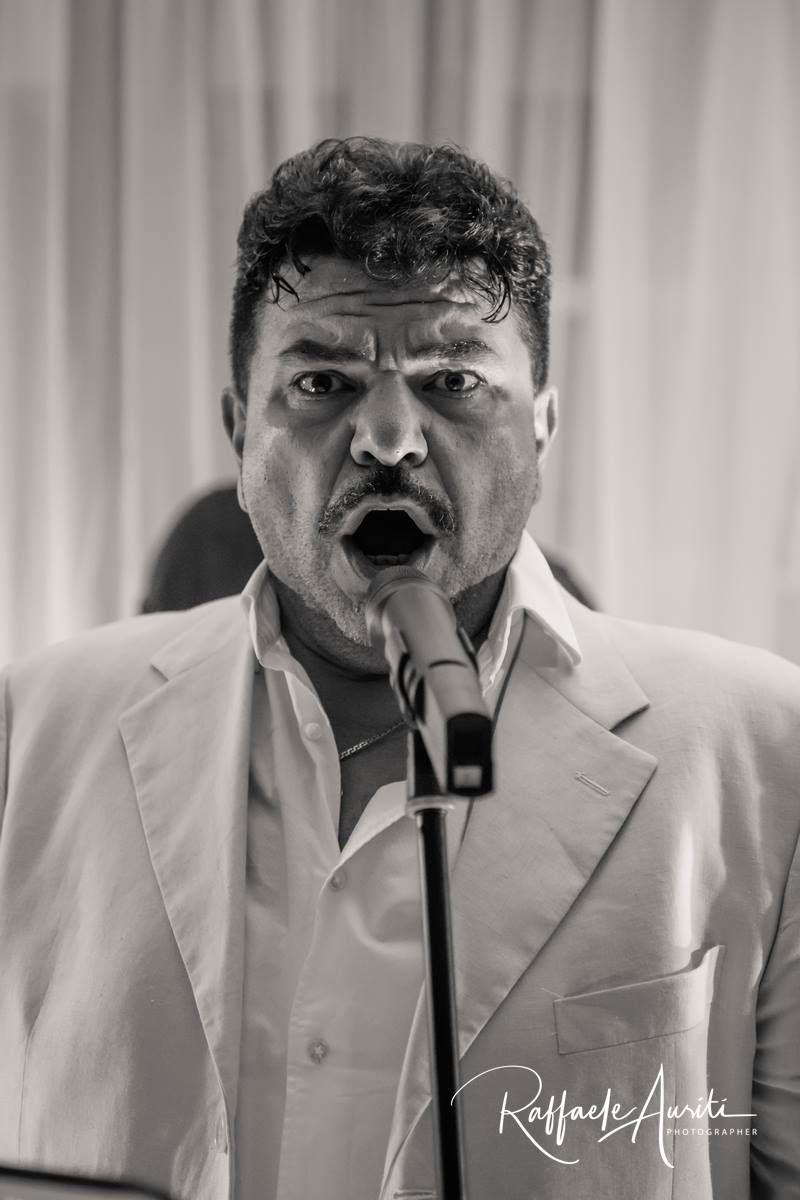 Massimiliano Luciani - Tenore


Massimiliano Luciani ha compiuto gli studi musicali Diplomandosi in Canto e Composizione e specializzandosi in Direzione d'Orchestra presso il Conservatorio Statale di Musica "Rossini" di Pesaro e "Pergolesi" di Fermo.
Nel corso degli anni di studio avuto il piacere di approfondire la Tecnica Vocale ed interpretativa con la Sig.ra M. Guglielmi, con il Basso M. Pertusi, la Signora A. Stella ,il Tenore G. Raimondi, la Sig.ra K. Ricciarelli, il Baritono G. Polidori,il Tenore N. Antinori, il Tenore G. Merighi, la sig.ra Alda Borelli Morgan, il M° P. Vaglieri, il Baritono Marcello Lippi e il Basso R. Scandiuzzi. Per lo studio della Direzione D'orchestra e di Banda ha affiancato Il Maestro Piero Bellugi, Dario Lucantoni, Lorenzo Della Fonte e Massimo De Bernard.
Tra i teatri dove ha cantato ricordiamo il Teatro alla Scala di Milano, Teatro "G. Lorca" di Getafe (Spagna), Muse di Ancona, Sferisterio di Macerata, Ventidio Basso di Ascoli Piceno, Pergolesi di Jesi, Treviso, Mantova, Pisa, Livorno ecc..interpretando ruoli principali e comprimariali riscuotendo numori consensi di pubblico e critica.
Ha avuto il piacere di essere stato diretto da famosi Maestri come: Bisanti, Callegari, Montanaro, Bellugi, Bartoletti, Crescenzi e Sorichetti. Tra i registi con i quali ha collaborato si ricordani Pierluigi Pizzi, Liliana Cavani, Franco Zeffirelli Henning Brockhaus. Nel suo repertorio le opere interpretate fino ad ora sono: Cavalleria Rusticana, Tosca, Traviata, Carmen, Otello, Neues von tages, Lucrezia Borgia, Requiem Mozart oltre ai numerosissimi concerti lirici e sacri che ha tenuto in Italia e all'estero. Ha cantato e diretto cerimonie liturgiche pontificali a Roma, Loreto, Cascia in occasione della Pontificale di Santa Rita in diretta su tv2000. E' stato tenore solista nello spettacolo di Cesare Bocci "Viva Verdi" al Politeama di Tolentino
E' compositore e tra le sue opere annoveriamo Pitriòo mmia, un omaggio al suo paesino su testo del grande Maestro Giovanni Ginobili. Due sono i brani lirici con testo religioso di S.E. Cardinale Angelo Comastri, "Madre di Gesù" e "O Maria esperta di libertà". Oltre questi diversi sono i brani strumentali (anche per banda) e vocali soprattutto ispirati alla tradizione della propria terra, su testi di autori locali. Diversi i suoi concerti in rassegne organistiche dove presenta nel repertorio brani di compositori maceratesti: Festival antichi organi della marche (ed 2021), Giornata del FAI primavera 2022 Montecassiano.
Attuale Direttore artistico musicale del Corpo Bandistico "Città di Petriolo", ruolo che ricopre dal 1995. E' per stato per diversi anni il Direttore del Coro "Quelli che... non solo gospel". Direttore didattico dell'Associazione Culturale "Musica e Territorio" Montecassiano
Docente di Canto presso l'Accademia di Musical Platafisica di Macerata, presso l'Istituto Musicale "Musica e territorio" di Montecassiano, presso la Macs Coop di Corridonia, Docente di Canto e Coordinatore del Dipartimento di Musica Popolare l'Istituto Musicale "R. Goitre" di Vallo della Lucania (SA) e Docente della Cattedra di Metodologia di Canto per Didattica della Musica presso il Conservatorio Statale di Musica "Martucci" di Salerno.